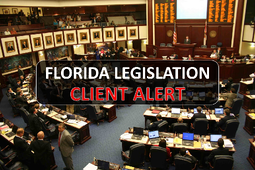 June 7, 2013 - Florida - Governor Rick Scott signed House Bill 87 into law today, an ambitious piece of legislation designed to expedite the residential mortgage foreclosure process and ease the state's formidable backlog.
While House Bill 87 provides novel and useful mechanisms to speed up the foreclosure process, it also imposes some additional, highly specific requirements on plaintiffs in mortgage foreclosure actions. In order to safeguard our clients' reputational and pecuniary interests, Albertelli Law proactively researched the contours of the proposed legislation, dissecting the bill's key provisions and assessing its practical and economic effects on our clients. We are prepared to guide you every step of the way.
Download H.B. 87 Legislative Highlights
The limitations period on an action to enforce a claim for a deficiency is reduced from five (5) years to one (1) year.
The initial complaint seeking to foreclose a mortgage must include specific allegations regarding the plaintiff's entitlement to enforce the promissory note, either directly or as an authorized delegate of the person entitled to enforce it. Furthermore, the plaintiff must either: (1) file a separate certification, contemporaneously with the initial complaint and under penalty of perjury, that the plaintiff is in possession of the original promissory note; or, in the event the note has been lost or destroyed, (2) attach an affidavit executed under penalty of perjury to the initial complaint, setting forth specific facts that demonstrate plaintiff's entitlement to enforce the instrument.
A court is required to treat a collateral attack on a final judgment of foreclosure as a claim for monetary damages under specific, delineated circumstances, protecting the integrity of the final judgment and prohibiting the court from granting certain relief affecting title to the foreclosed property.
The amount of any deficiency judgment for owner-occupied residential property is limited to the difference between the final judgment amount (or, in a short sale, the outstanding debt) and the fair market value of the property at the time of sale.
Any lienholder may request an order to show cause for entry of final judgment. In order to demonstrate cause for the court not to enter the judgment, the defendant(s) must present evidence and arguments that raise a genuine issue of material fact that would preclude entry of summary judgment or otherwise constitute a legal defense to foreclosure. If the residential property is not owner-occupied, the plaintiff may request an order to show cause why an order directing the mortgagor to make payments during the pendency of the foreclosure proceedings or an order to vacate the premises should not be entered.
Various reasonable means of providing adequate protection for the enforcement of lost, destroyed or stolen instruments are explicitly recognized by statute.

What is the practical effect on mortgage servicers and the firm?

We followed HB87 every step of the way and remain committed to employing our entire intellectual and professional capacity to zealously and efficiently represent the best interests of our clients within the bounds of the law — an ethical duty that guides everything the firm does.

Respectfully Submitted,

Robert Klien Bowen, Esq.
Managing Attorney

Tel: (813) 356-0228
Cell: (813) 728-1284
Fax: (813) 221-9171
Email: rbowen@albertellilaw.com



Download H.B. 87 Legislative Highlights I Download Full Copy of HB 87