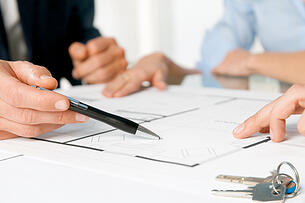 Nothing will stop new construction in Georgia quicker than a clouded title, incorrect closing documents, or suspect financing. Retaining a real estate attorney helps avoid these issues or resolve these issues during a transaction.
Real Estate attorneys perform a variety of title services including title insurance protection, settlement of title issues, arrangements for escrow, and closing. The services are often the most beneficial before a builder begins a new construction in Georgia.
Effective Title Searches
Lay people who purchase property for construction often rely on the title report itself. Title reports are generated by a licensed title abstractor, and not attorneys. Unfortunately, the title abstractors are not legal experts on title issues. Furthermore, the title report itself does not reveal legal issues connected with that land including encumbrances, unauthorized improvements, boundary disputes, and disputed claims.
Even if the transaction involves undeveloped land, there can still be a myriad of title issues such as easements and missing interests. Title issues can delay or even cease a development plan, and in certain severe cases, a title issue discovered after the construction can create severe financial consequences for the builder. As an example, an undiscovered boundary dispute can lead to construction happening in the wrong place. The builder may be required to remove the new built structures in order to honor the correct boundary—a costly mistake. Undeveloped land may also be subject to a will dispute and potential heirs can file a lawsuit to prove their claim to the land is superior to the developer's claim. It is only with the trained eyes of a legal expert can a builder discover these issues in a timely manner.
Removing and rebuilding can cause an intended good investment to go very sour. These issues are easily discovered by a title attorney who has knowledge of the various searches to run before a land purchase. Finding these title issues during the negotiation process and resolving them before closing ensures a clean title and fewer barriers to new construction.
Benefits of a Closing Protection Letter
Without attorney assistance, builders risk errors when completing the final title documents during the closing stage. All attorneys will issue a Closing Protection Letter after closing for an additional Fee. The CPL protects the builders because it certifies that the title attorney did his or her due diligence and will indemnify the builder of any losses arising from the attorney's negligence.
Proper Procedure in Financing
The Braves Stadium construction project in Cobb County will cost approximately $672 million. Out of the $672 million, the Atlanta Braves will fund $372 million with the remaining $300 million financed by county resources.
In this economy, resources are tight and citizens demand transparency in government. Many private projects that also require public investment often receive the most scrutiny from the public. In the example of Braves Stadium, Cobb Citizens for Government Transparency monitors the financing and any disputes that arises out of the use of public bonds.
With these public-private new construction hybrids, transparency can be good. Keeping citizens informed allows their involvement and encourages a community mindset. An involved community is more likely to use the new development as consumers. However, it also means that even the smallest unintentional errors can be blown out of proportion. The builder's intention of new construction in Georgia can become the new scandal in Georgia.
Even if a builder's development is entirely private, making sure financing terms are fair and legitimate benefits the builder and the seller. No one wants to close down a development midway through because honoring financing terms becomes impossible.
A real estate attorney can help a builder through all stages of purchasing property for new construction in Georgia. Checking for title issues, settling any issues, drafting documents, and assisting with good financing will help any builder create a smooth and profitable property investment.